CANCEL·LAT: The Mountain. Agrupación Señor Serrano
April 22, 2021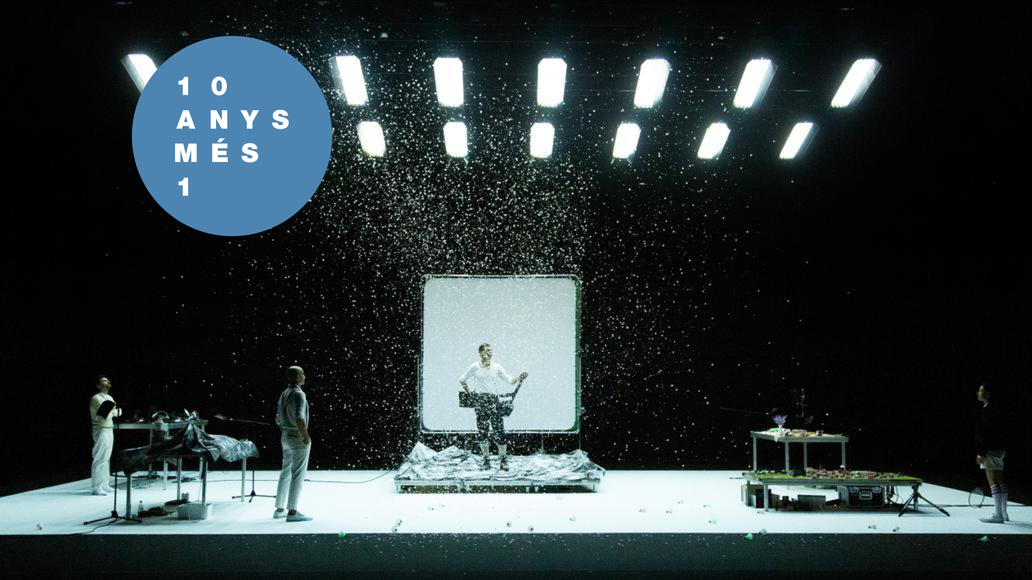 Una reflexió sobre la veritat
- - - - - - - - - -
COMUNICATS COVID-19
INFOMACIÓ D'ÚLTIMA HORA 20-04-21
Us informem que la companyia Agrupación Sr. Serrano ens acaba d'informar que la representació The Mountain (que s'havia de portar a terme aquest dijous 22 d'abril, vigília de l'11è aniversari de L'Atlàntida) s'ha de cancel·lar perquè s'ha produït un cas positiu de COVID a la companyia.  
Als espectadors que hagin adquirit entrades per aquest espectacle, se'ls retornarà l'import de manera automàtica. En el cas que més endavant s'acordi una nova data de representació, s'emetrà un nou comunicat. 
- - - - - - - - - -
Hi ha una imatge àmpliament compartida que recorre la història de les idees: escalar una muntanya, superar totes les dificultats per arribar al cim i, un cop allà, poder veure el món "tal com és". Veure la veritat, no només ombres o reflexos. És una imatge bonica, sens dubte.
Però és així, realment? Sovint, quan mirem del cim cap avall només veiem núvols i boira que ho cobreixen tot, o un paisatge que canvia en funció de l'hora del dia o del temps que fa. Com és aquest món, llavors? Com és aquesta veritat? Existeix, la veritat? L'objectiu és simplement coronar el cim, o més aviat es tracta de recórrer el camí, fred i inhòspit, que hi porta?
The Mountain combina la primera expedició a l'Everest, l'èxit de la qual és encara avui incert, amb Orson Welles sembrant el pànic al seu programa de ràdio La Guerra dels Mons; jugadors de bàdminton jugant a baseball; un web de fake news; un drone escrutant al públic; molta neu; pantalles mòbils; imatges fragmentades; i Vladímir Putin dissertant satisfet sobre la confiança i la veritat.
L'Agrupación Señor Serrano és una companyia de teatre amb seu a Barcelona que crea produccions originals sobre aspectes discordants de l'experiència humana contemporània. Els espectacles de Señor Serrano barregen vídeo en directe, maquetes, text, performance, so i objectes.
Les produccions de la companyia s'estrenen i giren internacionalment.
A L'Atlantida ens presentaran el seu nou espectacle The Mountain.
Obra en anglès amb subtítols en català.
A les 21.30 h diàleg posterior amb l'equip artístic.
----------
#10anysmés1
A partir del dijous 22 d'abril al vespre i fins al divendres 30 d'abril, L'Atlàntida celebrarà el 10 anys més 1, l'onzè aniversari de l'equipament, amb una programació diversa, plural i participativa amb l'objectiu d'arribar a tots els públics.  
----------
#EscenaCrítica 
L'Atlàntida presenta nova temporada amb l'ànim de multiplicar les veus de reivindicació social. Nous formats i noves autories per a un espai escènic de cultura conscient, activa i compromesa amb els objectius de desenvolupament sostenible. Veus alternatives, veus perifèriques, veus freàtiques que pujaran a l'escenari per remoure, sacsejar i commoure consciències o, com a mínim, per obrir uns quants interrogants.
#EscenaCrítica per a la construcció d'un món millor.
----------
Crítiques i valoracions de l'espectacle:
'Mil y un ingenios de bricolaje teatral y audiovisual hilvanan este viaje.'
Toni Polo - El País
'L'Agrupació Sr Serrano torna a la seva lucidesa que tant ens fa pensar: Avui, el ciutadà mitjà vol la informació que consolidi la seva opinió.'
Jordi Bordes - Recomana.cat
----------
COMUNICATS COVID-19
INFOMACIÓ D'ÚLTIMA HORA 10-12-20
A causa del manteniment de les restriccions de mobilitat, aquest espectacle s'ajorna al 22 d'Abril de 2021 a les 20 h 
Us recordem que, en el cas de voler sol·licitar devolució de l'import de les entrades, ho podeu fer en el següent ENLLAÇ