OBC amb Nicolas Altstaedt
March 4, 2023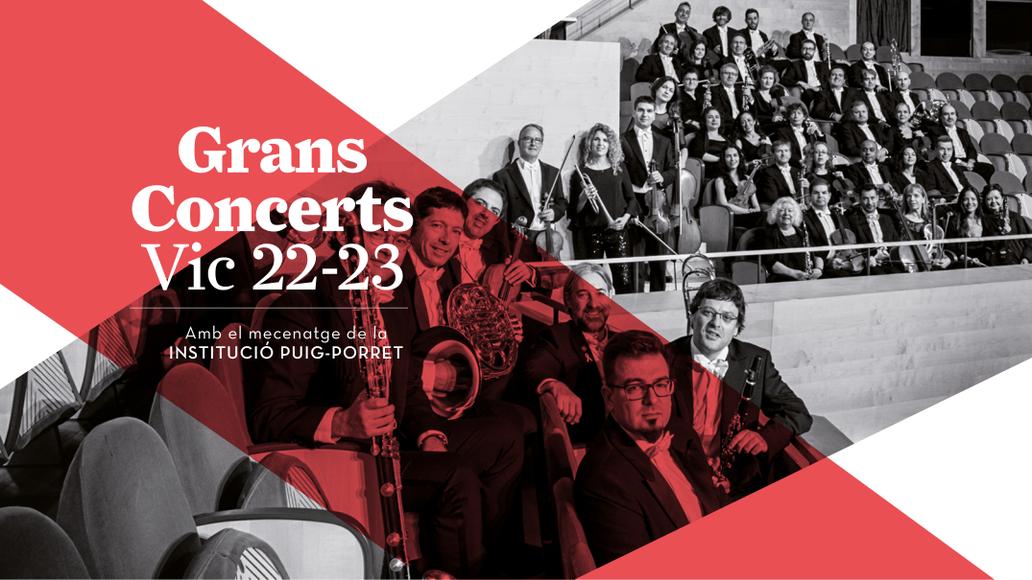 L'OBC porta a Vic un espectacular programa simfònic amb Brahms, Haydn i Pedrell
Música simfònica amb un violoncel solista d'excepció sota la direcció de Ludovic Morlot.
Programa:
Felip Pedrell: (1841-1922)  I trionfi (Els triomfs): Trionfo della morte i Trionfo della fama, poema simfònic (1880) 
J. Haydn (1732-1809) Concert per a violoncel en Do major, Hob.VIIb:1 (1761-65) 
Brahms (1833-1897)  Simfonia núm. 2 en Re major, op.73 (1877) 
Consulta aquí el programa de mà.
L'Orquestra Simfònica de Barcelona i Nacional de Catalunya (OBC) va ser fundada per l'Ajuntament de Barcelona el 1944, com a consolidació del projecte de l'Orquestra Pau Casals (1920-1937) que la Guerra Civil va interrompre. Avui dia, tot mantenint l'esperit original de Pau Casals, oberta al món i compromesa amb la societat, interpreta les grans obres del repertori simfònic amb especial cura dels nostres artistes i el nostre patrimoni musical.

Des de l'any 1999 té com a seu pròpia L'Auditori, obra de l'arquitecte Rafael Moneo, on interpreta més d'una vintena de programes de temporada a més d'altres concerts que apropen la música d'orquestra a la ciutadania.

El seu primer director titular va ser Eduard Toldrà, i des del setembre de 2015 ho és Kazushi Ono, que també és titular de l'Orquestra Simfònica Metropolitana de Tòquio. A partir de la temporada 22-23, el mestre Ludovic Morlot assumirà la direcció titular de l'OBC.
Altres titulars han estat Rafael Ferrer, Antoni Ros Marbà, Salvador Mas, Franz-Paul Decker, Luis Antonio García Navarro, Lawrence Foster, Ernest Martínez Izquierdo, Eiji Oue i Pablo González. Ha estat dirigida per Ataúlfo Argenta, Herbert Blomstedt, Sergiu Celibidache, Sergiu Comissiona, Christoph von Dohnányi, Rafael Frühbeck de Burgos, Valeri Guérguiev, Christopher Hogwood, Eliahu Inbal, Mariss Jansons, Clemens Krauss, Emmanuel Krivine, Jesús López Cobos, Witold Lutosławski, Peter Maag, Bruno Maderna, Yehudi Menuhin, Marc Minkowski, Michel Plasson, Georges Prêtre, Mstislav Rostropóvitx, Leonard Slatkin, Simone Young o Heitor Villa-Lobos.

Entre els solistes convidats destaquen Lang Lang, Janine Jansen, Daniel Barenboim, Anne-Sophie Mutter, Isaac Stern, Radu Lupu, Frank Peter Zimmermann, Arcadi Volodos, Plácido Domingo, Montserrat Caballé, Teresa Berganza, Alícia de Larrocha, Pinchas Zukerman, Martha Argerich, Joshua Bell, Gidon Kremer, Truls Mørk, Viktória Mul·lova, Piotr Anderszewski, Gil Shaham, Rudolf Buchbinder, Joaquín Achúcarro, Claudio Arrau i Arthur Rubinstein.Nicolas Altstaedt
Nascut l'any 1982 en una família d'origen francès i alemany, va ser un dels darrers alumnes de Boris Pergamenschikov a Berlín, on va continuar els estudis amb Eberhard Feltz. Posteriorment ha rebut una gran influència de músics com Mstislav Rostropovich, Tabea Zimmermann, Heinrich Schiff, Miklós Perényi, Steven Isserlis i Anner Bylsma.
Després de guanyar diversos concursos internacionals, l'any 2009 va rebre una beca de la Fundació Borletti Buitoni i l'any següent va guanyar el prestigiós premi Credit Suisse Young Artist Award, que li va permetre debutar amb l'Orquestra Filharmònica de Viena dirigida per Gustavo Dudamel al Festival de Lucerna. Les darreres temporades ha tocat amb l'Orquestra de la Tonhalle de Zurich i Neville Marriner, l'Orquestra Simfònica de la Ràdio de Stuttgart i Roger Norrington, l'orquestra austrohongaresa Haydn Philharmonie i Adam Fischer, el Musikkollegium Winterthur i Mario Venzago, l'Orquestra de Cambra de Stuttgart i Dennis Russell Davies, així com amb la Simfònica de Bamberg, les Orquestres Simfòniques de Melbourne i Adelaida, l'Orquestra de Cambra de Zurich, l'Orquestra Simfònica de la Ràdio Danesa, la Tapiola Sinfonietta i l'Orquestra Juvenil Simón Bolívar. L'any 2010 va ser escollit com un dels integrants del programa New Generation Artists de la BBC.
En l'àmbit de la música de cambra, toca habitualment amb Gidon Kremer, Yuri Bashmet, Daniel Hope, Alina Ibragimova, Kirill Gerstein, Pekka Kuusisto, Barnabás Kelemen, Patricia Kopatchinskaja, Alexander Lonquich, Carolin Widmann, Jörg Widmann, el Quartet Ebène, l'Ensemble Scharoun de la Filharmònica de Berlín i la intèrpret de Bayan Elsbeth Moser. Sent una afinitat especial per la música contemporània i ha treballat amb compositors com György Kurtág, Moritz Eggert, Franghiz Ali-Sade, Sofia Gubaidulina, Lera Auerbach, HK Gruber i Wilhelm Killmayer. Ha tocat en escenaris tan prestigiosos com el Centre de les Arts de Seül, el Festival de les Arts de Hong Kong, la Philharmonie de Berlín, la Philharmonie de Colònia, el Carnegie Hall de Nova York, la Tonhalle de Zurich, la Konzerthaus de Berlín, el Théatre du Châtelet de París, la Sala Hércules de Munic, el Mozarteum de Salzburg i la Konzerthaus de Viena, entre d'altres. També és convidat habitual de festivals internacionals com el de Lockenhaus, Salzburg, Jerusalem, Rheingau, Schleswig-Holstein, Ludwigsburg, Kronberg i la Beethovenfest de Bonn.
Nicolas Altstaedt toca un violoncel construït por Nicolas Lupot a París l'any 1821, cedit per la Deutsche Stiftung Musikleben.
Marta Gardolińska s'està convertint ràpidament en una de les directores joves més interessants. Si bé recentment ha estat nombrada directora musical de l'Opéra national de Lorraine de la temporada 21-22, ja havia cridat l'atenció internacionalment com a directora jove a l'Association at the Bournemouth Symphony Orchestra durant les temporades 18/19 i 19/20. En aquest període, ha establert una bona relació de confiança amb els músics que li ha permès dirigir dues setmanes de concerts d'abonaments de gran èxit juntament amb gires regionals i projectes educatius. La temporada 19/20, Marta també va debutar amb gran èxit a Amèrica del Nord amb la Filharmònica de Los Angeles com a becària de Dudamel, on la van convidar a ser segona directora de la mà de Gustavo Dudamel en les seves actuacions i l'enregistrament de la Deutsche Grammophon de la Simfonia núm. 4 d'Ives, guardonada amb un premi Grammy.
Durant la temporada 21-22 Marta fa altres debuts importants, com ara amb l'Orquestra Simfònica de la Ràdio Sueca, l'Orchestre National du Capitole de Toulouse i l'Opéra National de Bordeaux, a més de nombrosos debuts al Regne Unit amb l'Orquestra Simfònica de Londres, la City of Birmingham Symphony Orchestra, la Royal Northern Sinfonia, la Royal Liverpool Philharmonic Orchestra i la BBC National Orchestra of Wales. També tornarà amb la Filharmònica de Los Angeles per al seu debut al Hollywood Bowl amb la pianista internacional Hélène Grimaud i l'Orquestra Simfònica de la Ràdio Nacional Polonesa a Katowice.
La temporada passada, Marta debuta amb èxit amb l'Orquestra Simfònica de Barcelona, la Royal Scottish National Orchestra, l'Orquestra Simfònica de la Ràdio Nacional Polonesa, l'Orchestre National de Lorraine i l'Orchestre Chambre de Paris al Theatre des Champs-Elysees. També va tornar a l'Orquestra Simfònica de Bournemouth amb concerts d'abonaments.
Inspirada per l'experiència de cantar al cor de la seva escola i fascinada pels colors de la música simfònica, va decidir estudiar direcció a la Frederic Chopin Music University de Varsòvia, la University of Music and Performing Arts a Viena i en moltes classes magistrals i tallers amb artistes com Bernard Haitink, Peter Eötvös, Simone Young, György Kurtág i Marin Alsop.
L'any 2015, va ser nomenada directora resident de l'Akademischer Orchesterverein Wien i, durant la temporada 17/18, va ser directora titular i directora artística de la TU-Orchester Wien.